More Books for Your Bibliography
A recent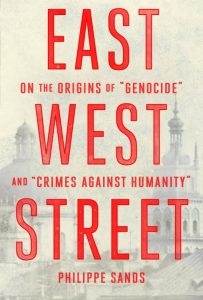 NYTimes Book Review carried reviews of three new books with relevance for the themes of the Arendt seminar. Phillippe Sands' East West Street: On the Origins of 'Genocide' and "Crimes Against Humanity,'" explores the development of international law and justice around two key concepts that changed the way we view what Arendt called "the only entirely new crime" of the twentieth century (EiJ,p. 257 ),"the new and unprecedented" (p. 255) "'crime against humanity'…or, as the French prosecutor Francois de Menthon called it, with greater accuracy, a "crime against the human status"(EiJ,p. 257 ). As the philosopher Bernard-Henri Levy notes in his review of East West Street, Sands narrates the story of these concepts through the lens of the stories of the "two men who brought them to life: Hersch Lauterpacht for the concept of the crime against humanity and Raphael Lemkin for that of genocide." (NYT, Book Review, Sunday, May 29, 2016, pp. 1, 18).
The psychiatrist Joel Dimsdale writes about Nazi War Criminals through the perspective of psychology in his Anatomy of Malice: The Enigma of the Nazi War Criminals, attempting to answer the question of whether those who commit atrocities are "monstrous psychopaths" or demonstrations of "the capacity for wickedness in every human being." (NYT, Book Review, Sunday, May 29, 2016, p. 19). In the course of her review of the book, Belinda Cooper observes that "Dinsdale briefly explains developments in neuropsychology and psychopathology…and skims through the usual suspects in social psychology…Hannah Arendt and the banality of evil, Stanley Milgram's and Philip Zombardo's experiments on obedience, Kitty Genovese and studies of bystander apathy." (p. 19).
The third book in the group, Benjamin Madley's An American Genocide: The United States and the California Indian Catastrophe, 1846-1873, takes up the question of the 19th century slaughter of California's Indians. Alan Taylor, who reviewed the book,  took issue with the anachronistic application of the category of genocide to the subject. "[Genocide] distorts if projected back into the mid-19th century, when governments were far weaker and less cohesive in their purposes." (p. 19).
Each of these works appears to resonate with themes in Arendt's writing that we will explore: how to understand specifically historical events and with what categories of analysis; what explanations for the commission of atrocious acts by people who otherwise appear "normal" make the most sense' and, finally, what Arendt meant by "crimes against the human status."
Be on the lookout for other sources as you engage with Arendt's work.
Please follow and like us: