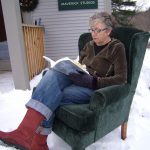 My own varied responses to reading Hannah Arendt during the thirty years of my teaching career confirm for me how important a figure she has been, both as an historical person and a theorist, in my own intellectual development. When I was a graduate student at the City University of New York in the early 1970s, she was still teaching at the New School and it is my great regret never to have taken advantage of the opportunity to study with her.
Reading Arendt's correspondence with many of the major thinkers and poets of her time, as well as with her friends, lovers, enemies, and students, adds depth to the portrait of a woman one can only catch a glimpse of through her writing. A few years ago, the playwright Kate Fodor made Arendt the central character in her play, Hannah and Martin, which tracks the controversial relationship between Hannah Arendt and Martin Heidegger. I was so excited about how the play brought Arendt's ideas to life and stimulated lively post-play discussions that a colleague and I decided to produce the San Diego premiere in June 2006.
My scholarly research and publications on Arendt have an equally complicated trajectory. I wrote about fundamental political concepts such as authority, democracy and citizenship, using the "woman question" to focus my inquiry, in Compassionate Authority: Democracy and the Representation of Women. In one chapter of that book I analyzed the Arendt's contributions to the study of authority and published a separate chapter on its themes, "What is Authority's Gender?" in Revisioning the Political, edited by Nancy Hirschmann and Christine DiStefano.
More recently, I have taken my writing in the direction of personal narrative. In Living Between Danger and Love: The Limits of Choice, a memoir I wrote about the impact of the murder of one of my students on my thinking, I used Eichmann to explore how questions of violence and evil came up in my own life. Since then, I have published a new book, Diving for Pearls: A Thinking Journey with Hannah Arendt. Deliberately departing from Arendt's resistance to introspective, autobiographical writing, this book works Arendt's ideas into a personal narrative, bringing philosophy "down to earth." It won the Barbara Kanner Book Prize from the Western Association of Women Historians in 2015.